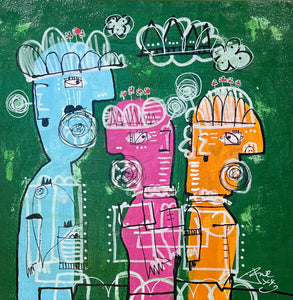 2022SEP24_1
One-of-a-kind, acrylic on canvas 12x12"
Hand-signed, varnished, wired, ready-to-hang.
Finished September 24, 2022.
Titles given by viewers like you:
"Mom Likes Me Best" - Susan L.
"Color my world" - Tama T.
"Spoken Word" - Eric P.
"OK Gentlemen, Thinking Hat On" - Heidi R.
"They/them" - Maya S.
"Orange is taller" - Maggie D.
"The Chatters" - Purpplerose
"The three stages of neon" - Jonovan D.
"Volunteer Arbiter" - Josie L.
"Home By Nine" - Deb C.
"Motor Mouth's" - Paul C.
"Flowering Highbrows" - Kristin L.
"Whispers in the night" - Candace D.
"Shit Talkers" - Kathleen M.