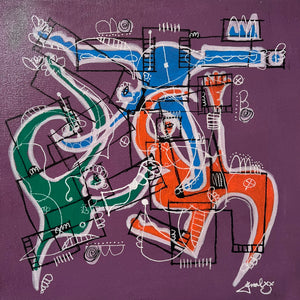 2022OCT30
One-of-a-kind, acrylic on canvas 12x12"
Hand-signed, varnished, wired, ready-to-hang.
Finished October 30, 2022.
Titles given by viewers like you:
"I'm stealing all the carrots" - Ray D.
"Re-Cycle" - Eric P.
"Waiter, where's my ham?" - Annie 
"The monkey on the monkey's back has a monkey" - Leigh
"Meet me at the party" - @_donotresuscitate__
"Barrel of. monkey" - Lisa A.